Dictionaries:
Sherpa-English (pdf)
Sherpa-French (pdf)
Sherpa-German (pdf)
German-Sherpa (pdf)
Sherpa-Italian (pdf, temporaneamente)
Sherpa-English and English-Sherpa Dictionary, by Nicolas Tournadre, Lhakpa Norbu Sherpa, Gyurma Chodrak and Guilleaume Oisel, Kathmandu 2009

---
Nepali-English (pdf)
Nepali-German (pdf)
Schmidt's dictionary of modern Nepali
Indonesian-German (pdf)
Italian-German (pdf)
French-German (pdf)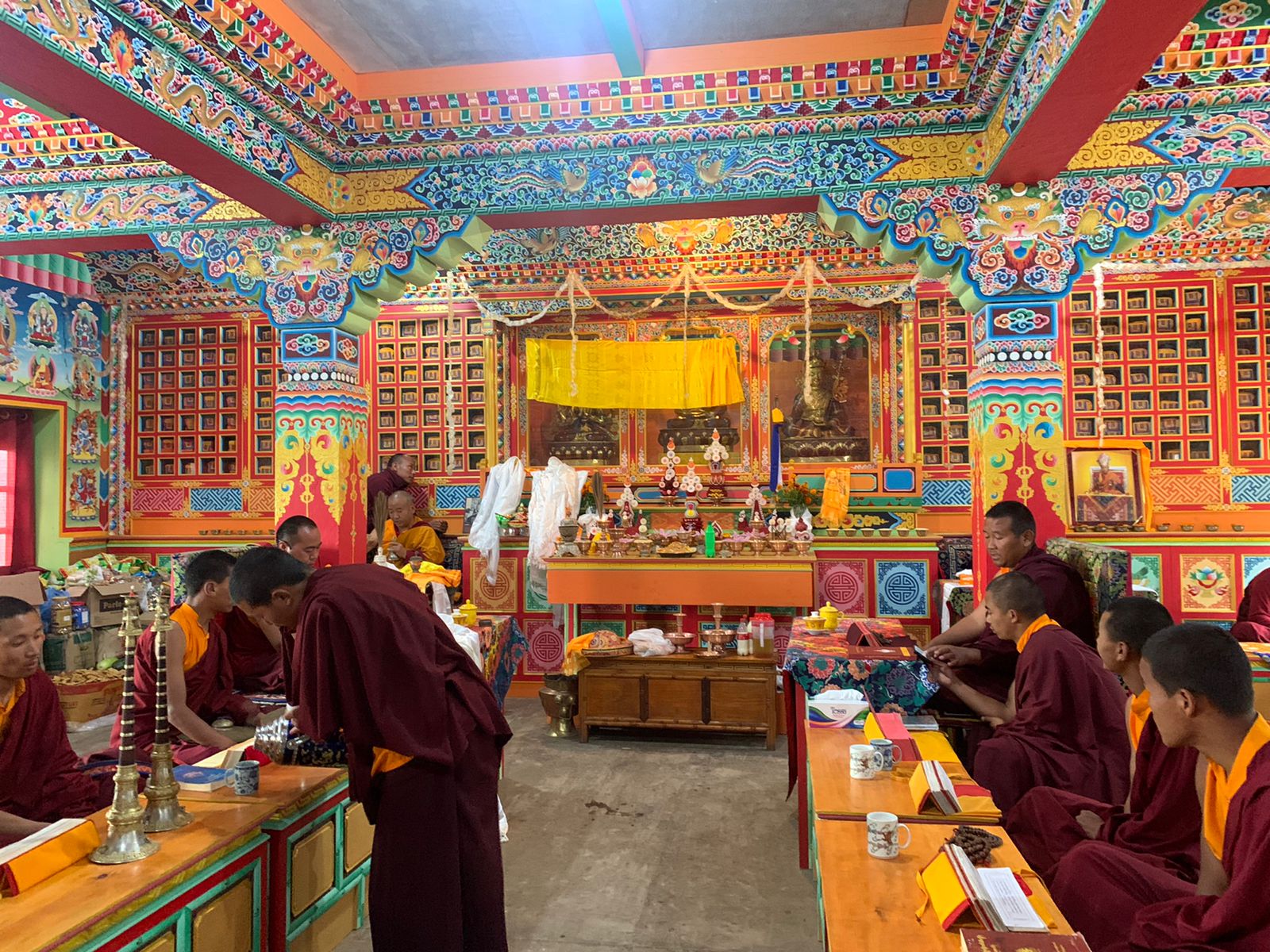 Inauguration of the new Gomba on the upper floor of the community centre of Hewa, Solududhkunda Municipality 1, Solukhumbu (October 2021)

---
Short introduction:


The Sherpas (originally Sherwa) are one of the numerous nationalities of the multiethnic state of Nepal. Their main living area is Solu-Khumbu in North-Eastern Nepal, Southwest of Mount Everest (sh.: Chomolungma, nep.: Sagarmatha). This traditional area has been divided several times by administrative measures of the Nepali state.

Solu-Khumbu comprises three regions: Khumbu, Pharak and Shorong (nep.: Solu). The ancestors of the Sherpas immigrated from the East Tibetan region of Kham about 500 years ago (see time table and map). During the next centuries, some other Tibetan families followed them to Khumbu where they were integrated into the Sherpa society. By far the most Sherpas live in Shorong.

Sherpa society is organized along exogamous clans. A hierarchical structure of society, as it is found among Nepal's Hindu castes, is totally strange to Sherpa society. According to the traditional kipat system, the whole Sherpa area was clan land of the Sherpas, i.e. the land belonged to the several clans and not to individuals. This clan land was expropriated with the abolition of the kipat system forced by the expanding Nepali state (final annulment in 1949).

The Sherpa culture is based on the old Nyingmapa Buddhism interspersed with animist and shamanistic practices und conceptions. The Sherpa language is related to modern Tibetan, but only to a lesser degree mutually comprehensible. Since the Sherpa language is not a written and standardized language, the current elites endeavour to introduce a script on the basis of the Tibetan script, even though this alienates the Sherpa language which has developed independently from Tibetan over the centuries (see also experiment with Latin script on this Sherpa web site).

Traditionally, the Sherpas live on agriculture and animal husbandry, supported by intra-regional trade. The trade with Tibet across the Nangpa La has almost been brought to a standstill by the politics of the Chinese occupying power in Tibet. A modern source of income is the tourism business. But only a few Sherpas have really made profits of this. Most of the Sherpas involved in the trekking business only find jobs as porters or guides. The access to these jobs is in Kathmandu. So today, many young Sherpas commute between village and capital. But the latter doesn't open broader perspectives for people from ethnic communities.
Subsites:

Evaluation of current information
Background information on the Sherpas
Sherpa Monastery Route, by Freundeskreis Serlo e.V.

Institutions and organizations
Nepal Research Videos, the video collection for all websites of Nepal Research
Links:

Nepal Research, website on Nepal and Himalayan Studies
Yawa (Hewa), Dudhkunda Municipality 1 (formerly Taksindu VDC 6), Solukhumbu, Nepal: Development and history of a Sherpa village
Sherpa Radio, a station presenting songs, music and dances of the Sherpas
Nepal-Inzlingen, Hilfe für Kinder in Nepal
Rheinland-Lorraine-Nepal e.V., Koblenz: Hilfe für Kinder in den Bergdörfern Nepals
German-Nepal Friendship Association, Cologne, Germany

Nepalprojekt der Helene-Lange-Schule, Wiesbaden